Music production was never as easy and affordable as it is today. In the 80s you had to buy at least one analog drum machine, hardware synth and a device to record and mix everything. This could easily cost thousands of dollars and the possibilities were quite limited. Today all you really need is a computer, a DAW and a bunch of plugins. Actually, the plugin market is thriving so much, that it can be hard to find the best products sometimes, especially when you aren't that experienced yet. But don't worry! In this post you'll find the best free & paid Synthwave VSTs of 2021. Enjoy!
Free Synthwave VSTs
Sure, plugins are usually cheaper than their hardware counterparts, but they can still cost money. So.. let's start this list with some free alternatives. A lot of these freebies can easily keep up with the paid stuff, so don't make the mistake of skipping them!
iZotope Vinyl
Vinyl is a free VST plugin by iZotope, which (as the name suggests) emulates the imperfections of vinyl records. That said, you'll get parameters to control detuning, noise and distortion of the source signal. Add this to your synth loops, vocal recording or even drum bus and they will sound like a real, old recording. Definitely one of my favorite tools for adding "character" to my productions. Since it's free I don't see a reason to not download it!
Download*
Krush by Tritik
Tritik's Krush can be described as a bitcrusher with some extra features. You'll get a knob for downsampling, a knob for bitreduction and an additional drive knob. Furthermore you'll find a filter, an LFO, which can basically control every parameter and finally two faders for the dry and wet signal. If your DAW doesn't come with a stock bitcrusher or you're in for the extra features, this could be something you're interested in.
Download*
Free Chorus Effects
One effect that has been used quite a lot in the 80s (besides reverb) is the chorus. And doing my research for this post I actually found 3 ones, which are all pretty decent. I'd say that the one by Acon probably comes with the most features, but it might be to "complicated" for some cases. The TAL-Chorus models the infamous Juno-60 chorus, which is especially great for Synthwave producers and the Magic Switch is great if you prefer a simple device.
Paid Synthwave VSTs
Ok, the plugins I talked about so far are great, but if you take your productions seriously you'll sooner or later need to spend a few bucks. Feature-rich plugins are a lot of work and somehow the developers need to make some money to pay their bills. All of the plugins below are from the highest quality and in my opinion absolutely worth their money.
Serum by Xfer Records
Let's start with my favorite plugin of all time: Serum. It's probably the most used synth of the past 5 years and has completely revolutionized the market. Since Steve Duda (the developer) constantly releases new updates you can also be sure that it's always up to date. Furthermore, a lot of great 80s inspired sample packs contain Serum presets and you'll find plenty of analog waveforms from old hardware synths online. If you can only afford one synth, get Serum!
Download*
V Collection 8 by Arturia
Arturia's V Collection is actually not a single plugin, but a collection of 28 (yes 28) software instruments. You'll get a wide range of analog synth emulations (a lot of them have been made in the 80s) and a bunch of cool retro instruments, including the Mellotron, a Stage Piano or Wurly Keyboard. With almost 500 bucks the price might seem a bit high at first, but considering that you'll get 28 plugins it's actually a really good offer, especially because most of these VSTs already cost more than a hundred dollars on their own.
Download*
Diva by u-he
In a world full of digital synths, Diva is a plugin known for its warm sound. Just like most "retro synth plugins", it also emulates old hardware. However, in contrast to the Arturia stuff for example, it's built with a modular approach, which means that you get only one plugin, but you can pick different oscillator sections, different filters or ADSR controls and therefore make your own analog synths somehow. In my opinion a great way to combine an analog sound with the flexibility of digital tools.
Download*
TAL-U-NO-LX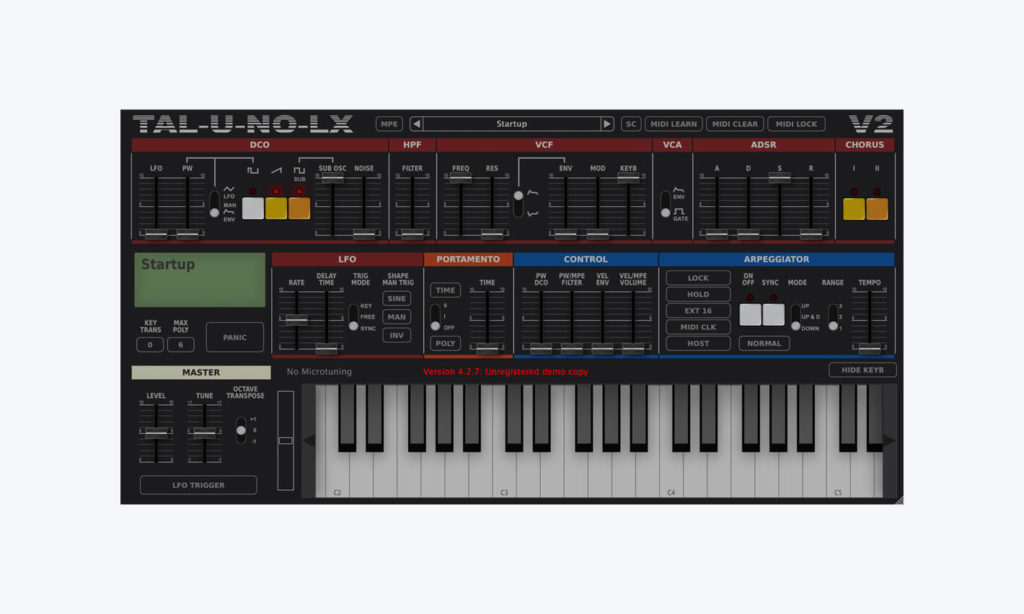 The U-NO-LX is an emulation of the famous JUNO-60 synth by Roland. It comes with all the parameters the original unit has + some extra features, which allow a better workflow. If you compare both instruments you can almost hear no difference and since the TAL version only costs about $60 it's clearly the better choice if you're on a budget. For additional insights on the plugin you can check out our full review here.
Download*
RC-20 Retro Color by XLN Audio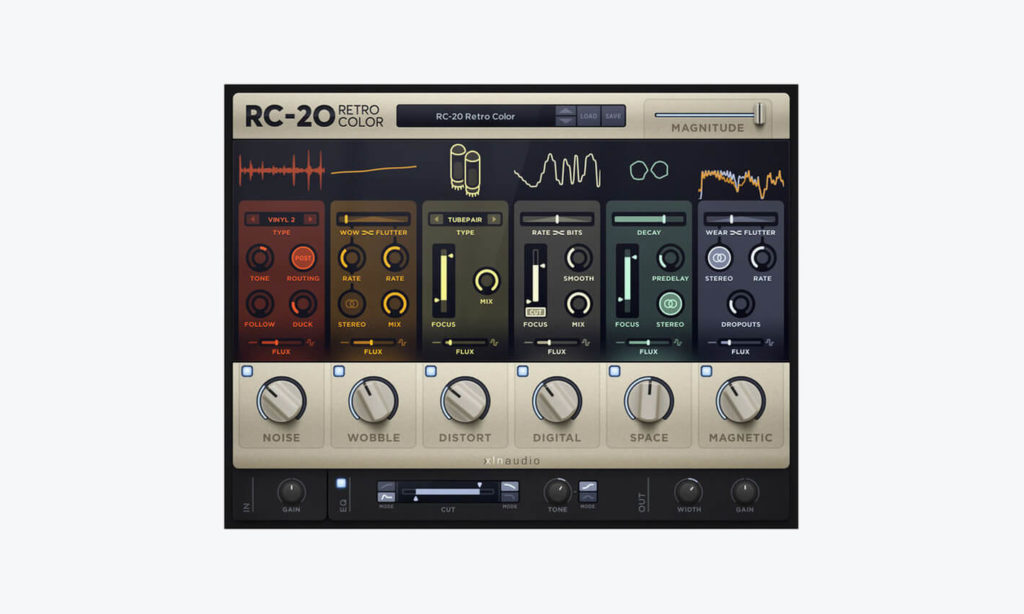 One plugin that has gained a lot of attention in the past few years is the RC-20 Retro Color by XLN Audio. It combines multiple effect sections, including noise, wobble, distortion, bitcrushing, reverb and something they call magnetic, which is basically a volume randomization. You'll also get output filters, an overall mix fader and a great presets menu. This plugin is literally all you need to transform any source sound into something that sounds beautifully nostalgic and reminds of old audio recordings.
Download*
Super VHS by Baby Audio
The Super VHS plugin is similar to the RC-20 meant to make your source sound "worse". There's a detuning knob, distortion, reverb and a fader to introduce noise. In comparison the the RC-20 it offers less features, but I guess since it also just costs about half the money it's ok 😉
Download*
Conclusion
So as you can see, there's no need to buy any expensive hardware units to make Synthwave. All you really need is one great synth and maybe an effect plugin to alter the sound. If you're on a budget I'd recommend to go for the free plugins, plus the TAL-U-NO-LX, since it's the most affordable synth in here. Otherwise I'd highly recommend Serum and the RC-20 Retro Color. However, everyone has a different opinion and preferences when it comes to plugins, so make sure to carefully check them out before making a purchase.