Whether you are a composer for film or trailer music, a producer of modern screaming dubstep or hybrid trap, or just generally interested in some hard-hitting, great-sounding cinematic percussion, the answer to your problems in the past has always been the notorious Damage library by the sampling giants Heavyocity. Now, their long-awaited sequel of the famous library, Damage 2, has been released. It's promising even more cutting-edge sounds for your drum tracks. I took the library for a spin to find out what's new and what was improved.
Also read: Heavyocity Mosaic Tape Review
Overview
On paper alone, the library sounds impressive. The download size is around 24 GB of sample material recorded at Skywalker Sounds. It features around 1600 different sounds, ranging from old-fashioned Toms, Timpani, or Snare ensembles to rather unusual sounds like found foliage or even a dumpster. The library also contains hybrid elements and over 860 premade loops. All of this is recorded at five different microphone positions.
When you load the library, you have the choice between three different NKIs: Ensemble Designer, Kit Designer, and Loop Designer. Each of them serves a different role in your path to creating hard-hitting orchestral drums. Let's look at each of them individually.
Ensemble Designer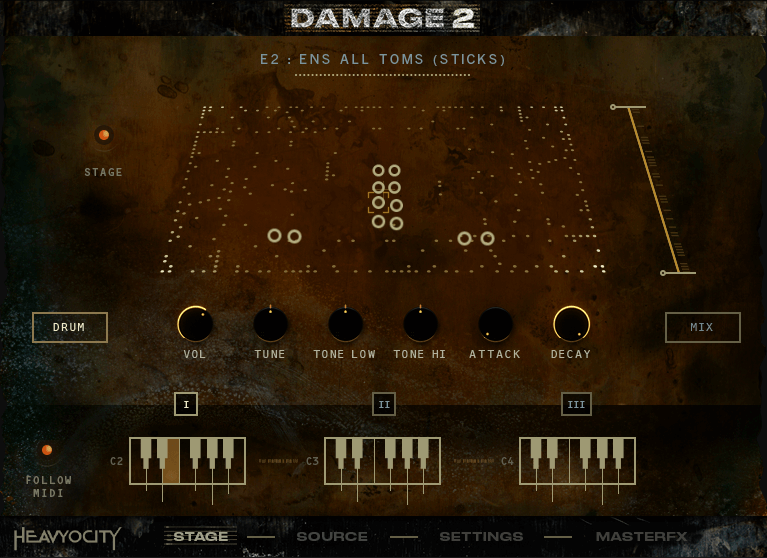 The Ensemble Designer is the creative centerpiece of the library. Here, you can load different types of instruments into your ensemble in a drag & drop fashion. This makes creating your desired sound quick and intuitive. You can arrange the sounds in a 2D scape to create realistic sound, or just adjust the levels of the five different microphones manually. These include an analog "CRUSH" and a low-end "LFR" option for maximum dirt. Then, you can design custom MIDI fills, repeats, and accents through the sophisticated MIDI tools. At last, you can use the PUNISH dial to really give the sound some dirt. This is a well-known associate to everyone who got to use the first Damage library.
Kit Designer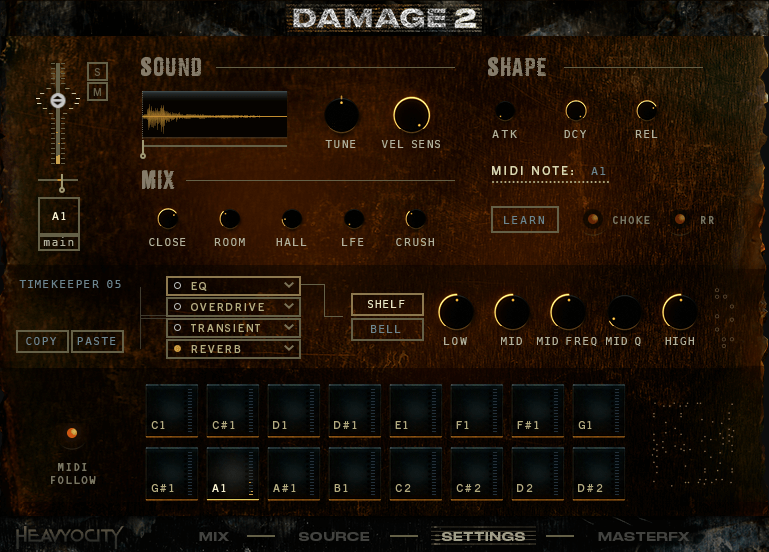 Damage 2's Kit Designer offers a more classical approach to drum programming. Instead of a layout for a full-on orchestral ensemble like in the ensemble designer, you have a more drum-machine type look. This is of course geared towards people who don't compose for professional cinema and don't have 88 weighted keys. Instead, it is fully compatible with controllers like Maschine or MPC. It is completely MIDI-programmable and features a complete FX chain for each individual voice. This enables a huge variety of possibilities for sound design. Included effects include different types of filters, distortion, a transient designer, and reverb.
Loop Designer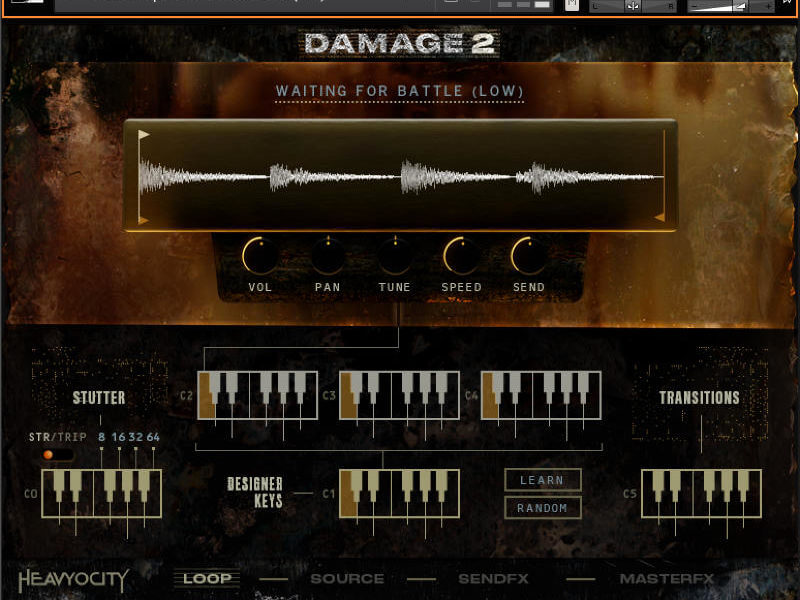 A great strength of the first Damage library were the loops. These were really helpful, since designing authentic sounding loops via MIDI is extremely difficult. Here, Heavyocity has stepped it up a notch. The 864 time-stretched and synced loops sound as great as ever. Ranging in all kinds of genres with different instrumentation, sounds, and FX, you can find something suitable for everyone here. Additionally, you can change the sound via the mod wheel or by sending it through an individual FX chain.
Summary
Damage 2 by Heavyocity has taken the crown from its predecessor for being the definitive percussion sample library. It is more polished, contains more sounds, better sounding FX, and more individual freedom. After all, it comes at a price of $399. This might seem much at first glance, but considering the content the library contains, it is sure worth the money. Because you probably won't need to buy any more percussion samples for at least a couple of years. In the end, I heavily recommend this library to everyone who is seeking a Hollywood-level sound in their music.
Learn more about Damage 2 at heavyocity.com.